FUE
Crown Clinic are experts at Follicular Unit Extraction (FUE) transplants. This treatment involves extracting hair from a donor area to a balding spot, providing a permanent solution to hair loss.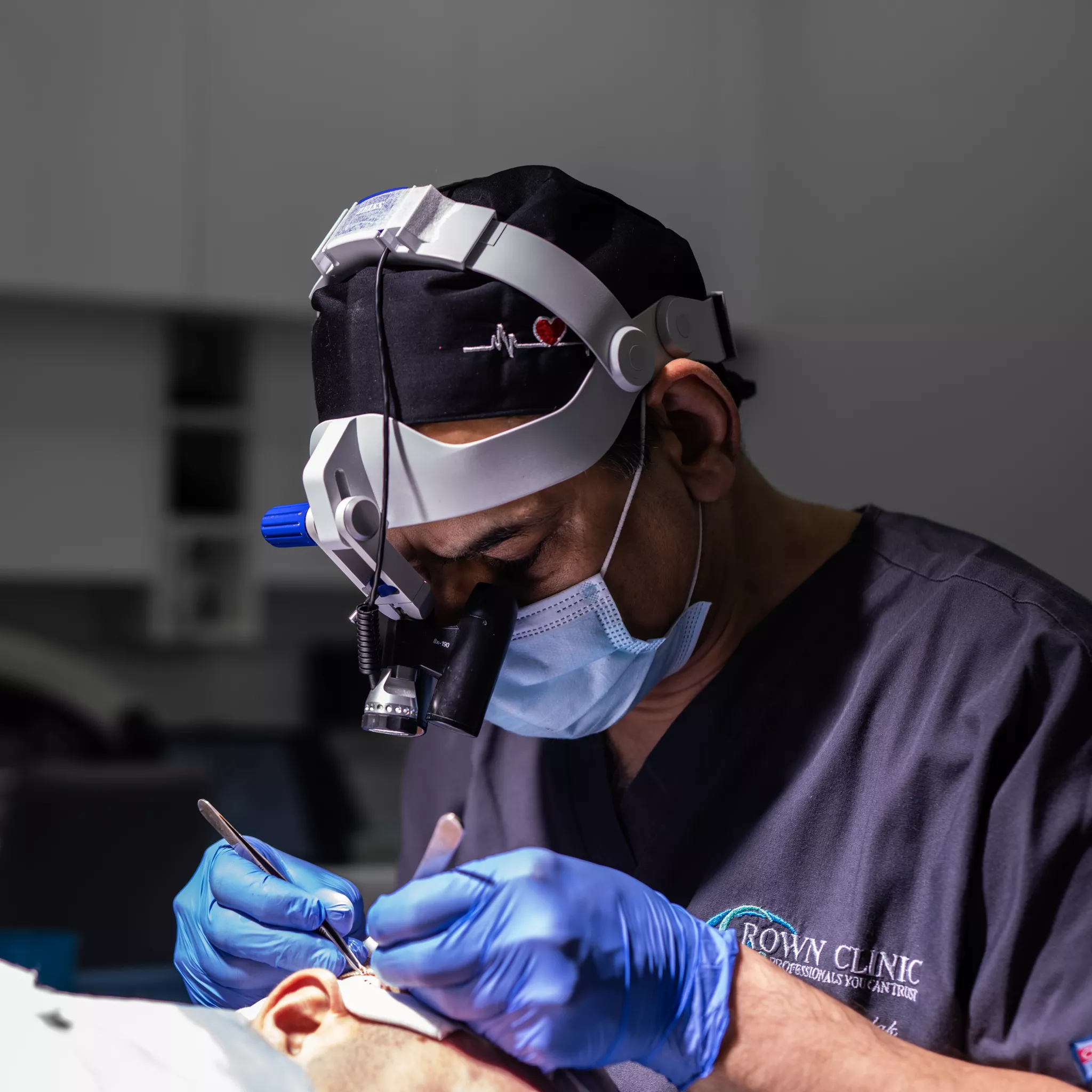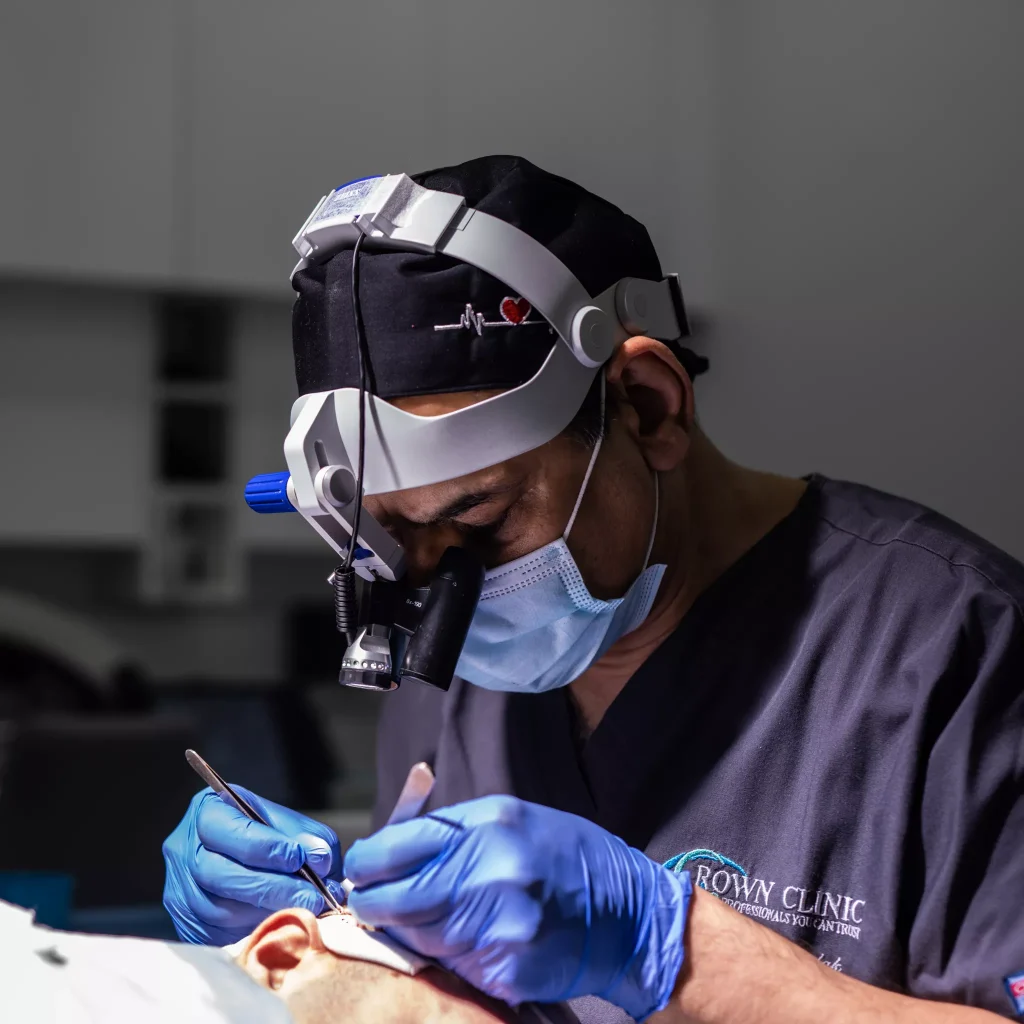 What is an FUE hair transplant?
Follicular Unit Extraction (FUE) is a type of hair transplant surgery. Individual follicular units are extracted from the back or side of a patient's scalp and transplanted into the balding area using a realistic blending process. These will then turn into healthy hair producing follicles.
Before the procedure, patients are given local anaesthetic used in both the donor and recipient areas – in fact, we often find that patients fall asleep while grafts are removed and transplanted.
An FUE transplant is a good option for men who like to wear their hair short or shaved, as FUT does tend to leave a linear scar.
FUE transplant details
Individual follicular unit grafts are removed manually using a tiny round punch. These are then moved to cover the balding areas. The recipient site is prepared using a fine needle, and the follicles can then be placed where they will eventually grow into hair-producing follicles. 
The grafts are expertly blended into the thinning or balding areas, to seamlessly match the natural growing characteristics of your original hair. FUE grafts can be vulnerable due to the fact that there tends to be less protective tissue around the roots, so it means extra care is needed to ensure that the grafts survive – we'll thoroughly talk you through the aftercare process.
Why have an FUE hair transplant?
Nine out of ten patients at Crown Clinic are men, who are seeking a permanent solution for their hair loss, whilst around 10% of our patients are women, who are struggling with thinning hair. Our hair transplant procedures can benefit both men and women who are suffering with the effects of hair loss, transforming their confidence and self-esteem.
We also treat hair transplant patients who have undergone physical trauma, facial injuries and scarring as the result of accidents and burns, as well as patients that have lost hair as the result of medical and surgical treatments, such as radiotherapy or chemotherapy. We have also treated patients who have an absence of hair on the body, due to congenital conditions.
However, by far the most popular reason is cosmetic, as an FUE transplant can have a truly transformative effect on a patient's life. Thankfully, for most men – even those in the advanced stages of baldness – they have a permanent horseshoe of hair on the back and sides of the scalp, which gives the surgeon a stable supply of donor hair, which can cover current and future areas of hair loss.
Please note that if you are under the age of 25, it is not in your best interests to undergo a hair transplant, as we are not able to establish the eventual pattern of hair loss by this age.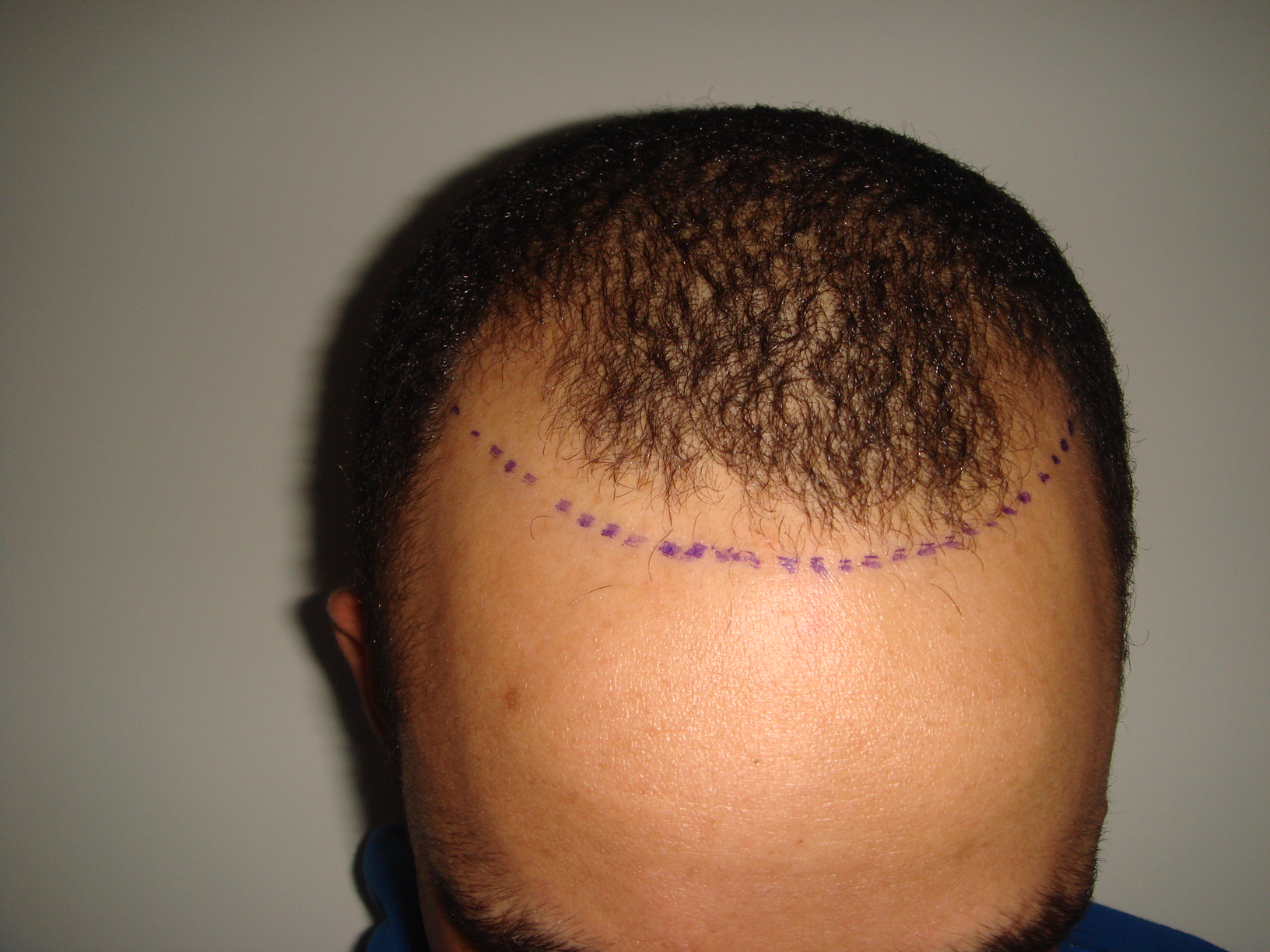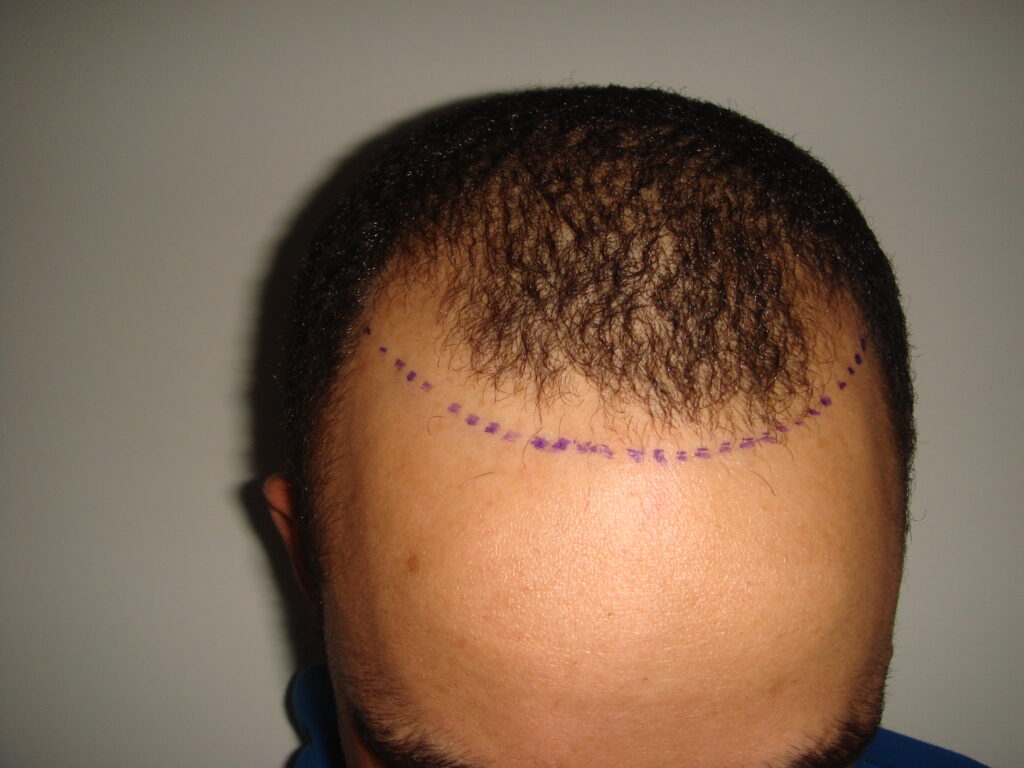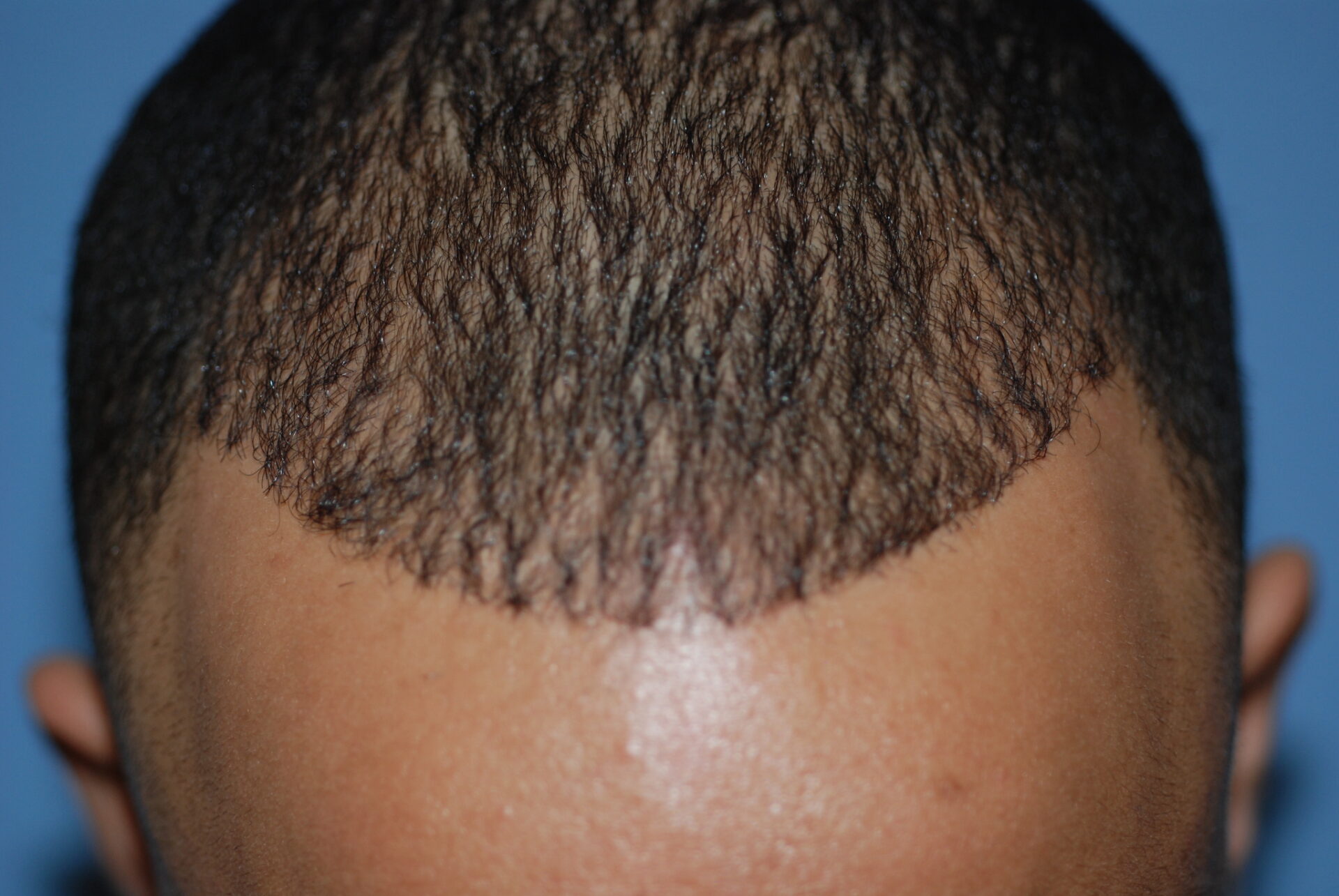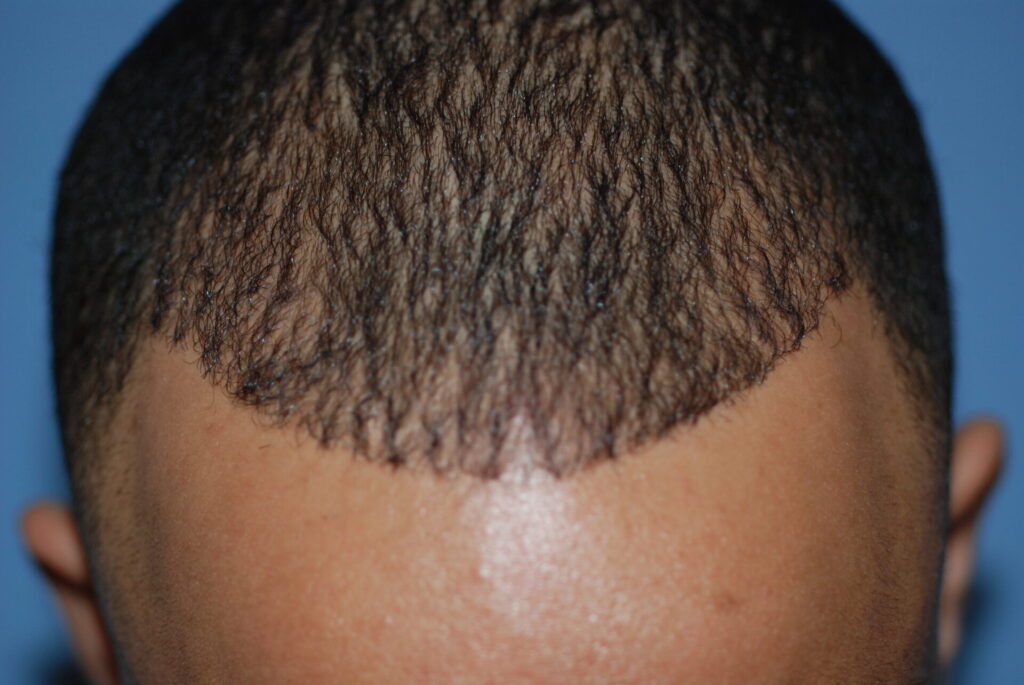 FUE Hair Transplant
Arrange a consultation today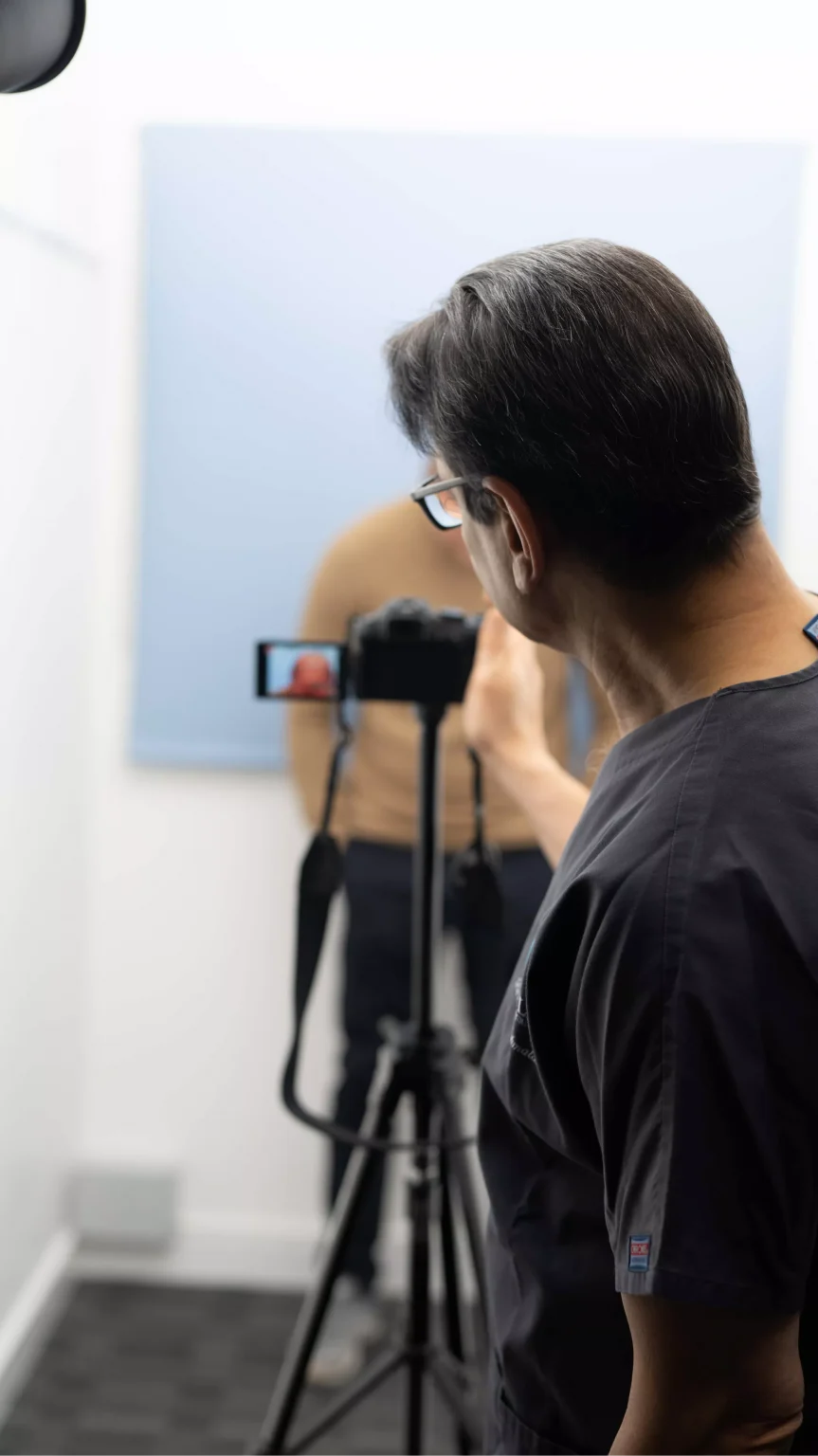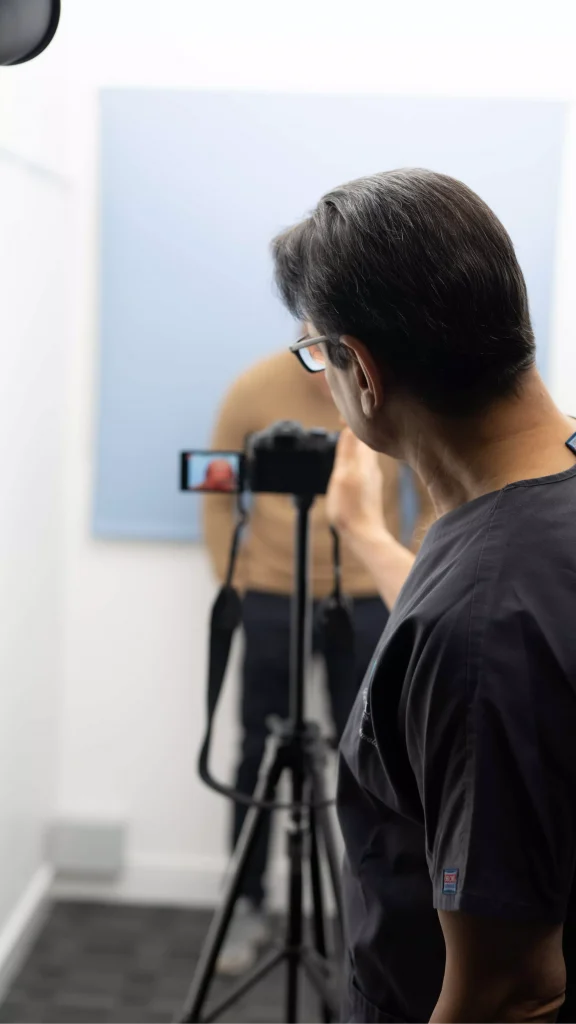 Your Journey
Consultation
During your consultation, Crown Clinic will thoroughly assess your level of hair loss and your suitability for FUE hair transplant surgery to make sure that it is the right procedure for you.
Procedure
FUE surgery is a minimally invasive procedure conducted under local anaesthetic. The surgery itself only takes a matter of hours, so you will be allowed home the same day.
Aftercare
Within 30 minutes of the treatment ending, you will be able to go home, although we strongly recommend that you do not drive.
With modern techniques used at Crown Clinic, we can produce results that are virtually undetectable – even under the closest scrutiny. A week to 10 days should be allowed for post-operative recovery.
New hair will start to grow back around three or four months after the procedure. However, it will take at least six to eight months for the new hair to make any significant cosmetic difference to your appearance.
FAQs
Are FUE hair transplants expensive?
FUE transplants are slightly more expensive than FUT surgery because the procedure is much more labour-intensive, as each hair follicle needs to be removed individually. However, one main advantage is that unlike FUT, no strip is taken from the back of the scalp, so scarring is minimal.
Will I need to shave my head for FUE hair transplant surgery?
Some patients are put off having an FUE hair transplant procedure because they are worried that they will have to fully shave the back and sides of their head in order for the surgeon to harvest the donor grafts – but thankfully, this is not the case. We only shave a very small section of the back or side of the scalp to obtain the donor hair.  The shaved section is either in a square shape or, more likely, in small lines down the back of the scalp. An upper layer of hair is lifted and then we shave underneath, allowing the hair above to fall over the shaved area – covering it up. The shaved area is only detectable to those who know you have had a transplant, and obviously the hair in the shaved area grows back quickly.
What are the benefits of an FUE hair transplant?
The main benefit of the FUE transplant technique is the reduction in scarring. The miniature punctures caused by extracting the follicular units heal quickly and leave small circular scars which are barely visible once hair grows back.  FUE has benefits for patients who are particularly active as the lack of incisions means there are no limitations on strenuous activity after the procedure. This is also helpful for patients who have very tight or very loose scalps. The procedure can also be used to extract very fine hair on the nape of the neck, which can then be used on the hairline or eyebrows.